Utah Fish and Game Advisories
The Utah Department of Environmental Quality (UDEQ) and the Utah Department of Health and Human Services (DHHS) work together to monitor the presence of chemical toxins in fish and waterfowl in Utah waters. Even when present in the water in extremely small amounts, some chemicals tend to accumulate in fish and game tissues because they absorb contaminants from the water and sediment and from the food they eat. For fish, the amount of contaminants they accumulate depends on the species, size, age, and sex, and the feeding area of the fish.
Generally, older and larger fish accumulate the most contaminants.  Since fish accumulate many contaminants in their fatty tissues, certain species with higher oil or fat content can pose more risk than others when both inhabit polluted areas.
Fish consumption advisories are recommendations by UDEQ and DHHS to limit or avoid eating certain species of fish or waterfowl from local waters due to potential health risks from contaminants.
Some fish may not be safe to eat because they accumulate environmental contaminants from the water which they live and eat. Women who are pregnant, may become pregnant, or are nursing should be very careful about the fish that they eat.
Utah public health officials issue fish consumption advisories when contamination levels are unsafe. The advisories outline recommendations for limiting intake of specific fish at specific locations.
Waterfowl consumption advisories are for waterfowl such as ducks or geese that are harvested from the Great Salt Lake marshes when there are elevated levels of mercury detected.
For more information visit the UDEQ Frequently Asked Questions page.
There are 5 toxins that make up the majority of advisories:
Mercury
Polychlorinated Biphenyls (PCBs)
Chlordane
Dioxins
Dichloro-Diphenyl-Trichloroethane (DDT)
Current advisories for fish in Utah are for mercury and PCBs; while advisories for waterfowl are only for mercury.
Contaminants tend to concentrate in the fatty tissue, so proper cleaning and cooking techniques can significantly reduce levels of PCBs, dioxins, chlorinated pesticides and other organic chemicals. Larger fish tend to have higher concentrations, eating smaller fish will reduce your exposure to contaminants. Proper cleaning and preparation of fish can also reduce the chance of consuming chemical contaminants.
Remove all skin from the fish (1). Cut away any fat above the fish's backbone (2). Cut away the V-shaped wedge of fat along the lateral line on each side of the fish (3). Slice off fat belly meat along the bottom of the fish (4).
Bake or broil trimmed fish on a rack or grill so some of the remaining fat drips away. Discard any drippings; do not eat drippings or use them for making sauces or gravy. Eat only the fillet and discard other tissues including bones.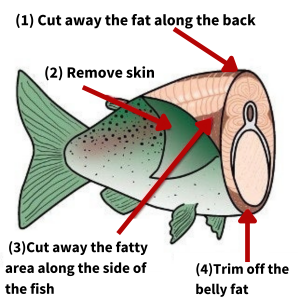 Note: You cannot remove heavy metals by any cleaning or cooking methods; these techniques will not reduce or remove unsafe levels of mercury from fish.
Pregnant and breastfeeding women, women of child bearing age and children are considered sensitive populations and should carefully follow consumption advisories for their group.
For more information, visit the EPA Fish Consumption Advisories page.
In 2005, duck consumption advisories were issued for Common Goldeneye, Cinnamon Teal, and Northern Shoveler ducks from the Great Salt Lake (GSL) due to mercury contamination. Current
waterfowl advisories
for the GSL can be found on UDEQ's website. The Environmental Epidemiology Program at DHHS is currently working with UDEQ to updated duck advisories based on new sample collection and analysis.